Shuttle Directions for Whitewater Rafting on the Merced River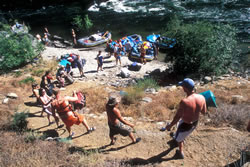 The Merced River is located just west of Yosemite National Park, near the towns of Mariposa and Midpines off of California Highway 140.
The shuttle directions to reach the different put-in and take-out access points for whitewater rafting are quite easy. Some of the roads are unimproved dirt roads, motor homes and large trails are not recommended on these roads.
The best way to run the shuttle is to meet at the designated take-out, whether it is Briceburg or Bagby. Shuffle the gear into the cars going to put-in and make sure to leave warm clothes and food in the take-out vehicle(s). Be sure to stash your keys on or around the vehicles (not in your vehicle), no matter if it's at put-in or take-out. Drive to the put in and have yourself a wonderful whitewater rafting adventure.
Bagby Take-Out:
"The Take-out is near the recreational settlement of Bagby, near the east end of McClure Reservoir. To reach Bagby, drive 18 miles north of Mariposa on Highway 49 and turn right on a dirt road leading up the left bank of the reservoir. There are a number of alternate river access points between the put-in and mile 20. Shuttles are quick and easy down to Briceburg."
Red Bud Picnic Area and Whitewater Rafting Put-in:
From Mariposa located off of California Highway 49, drive north to the Highway 49 and 140 junction and follow Highway 140 toward Yosemite National Park. "Red Bud put-in is located 29 miles east of Mariposa on California Highway 140 just a few miles west of El Portal entrance to Yosemite"
Excerpted from "California Whitewater" by Jim Cassady and Fryar Calhoun
Briceburg Put-in & Take-out:
"Put-in at the Briceburg Bridge, where California Highway 140 leaves the river and climbs over the divide to Mariposa. Briceburg is approximately 15 miles north of Mariposa."
Excerpted from "The Best Whitewater in California" by Lars Holbek and Chuck Stanley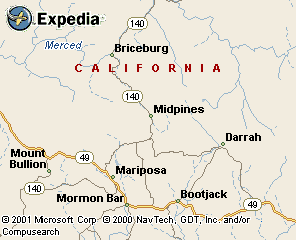 Images courtesy of All-Outdoors California Whitewater Rafting