Camping & Whitewater Rafting on the Merced River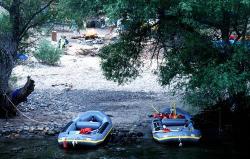 Camping is one of the most popular recreational activities in Sierra National Forest. There are a few camping options along the the Merced River which are managed by The US Bureau of Land Management. More camping is available in nearby Yosemite National Park (reservations often required). You can also find private campgrounds along Highway 140.
Images Courtesy of All-Outdoors California Whitewater Rafting
Both private and public campgrounds are crowded on spring weekends and all week during the summer. Below Briceburg, whitewater rafters can find numerous campsites. Those on the left bank are more secluded. Gold dredgers often occupy right-bank campsites.
Excerpted from California White Water by Jim Cassady
Three BLM campgrounds exist below Briceburg with both tent and RV campsites. All campsites are on a first come - first serve basis. All BLM campgrounds provide pit or composting toilets, fire pits, grills and garbage collection. Under the US Disabilities Act, all BLM campgrounds are wheelchair accessible. There is a 14 day limit in BLM camps.
McCabe Flat campground mile 17.5
Willow Placer campground mile 18.8
Railroad Flat campground mile 20.2
Camping is available in Sierra National Forest campgrounds located on both sides of the river. Complete facilities are available at Indian Flat and Jerseydale, which include drinking water and designated sites for camping between mid-May and mid-October.