Whitewater Rafting Mile-by-Mile Guide to the Merced River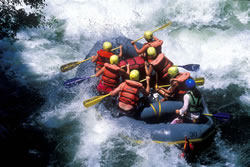 The Following Mile-by-Mile guide has been excerpted from California Whitewater written by Jim Cassady and Fryar Calhoun. Visit the About the Books page to learn how to purchase your own copy of this California Whitewater Rafting guidebook.
Merced River - Red Bud to Briceburg (Class IV)
Mile 0 - Put-in Red Bud Picnic Area: Experts sometimes put in upstream at the Highway 140 bridge to run an extra mile of continuous Class IV rapids (not visible from the road).
Mile 0 - 1.1: Continuous Class III-IV whitewater. Few eddies except at lower flows.
Mile 1.2 - Nightmare Island (Class IV): The river jogs right, then splits around an island as it turns sharply left. Scout both this rapid and Chipped Tooth at the same, from either or both banks. Above 3000 cfs most boaters run the left side, but at lower flows this channel ends in a nasty boulder sieve and boaters usually run the right side's sharp, narrow drops.
Mile 1.4 - Chipped Tooth (Class IV): A short staircase rapid with a sizable rock (hole at higher flows) in the middle. At higher flows the rapid merges with Nightmare Island (upstream).
Mile 1.7 - Stark Reality (Class IV)
Mile 2.2 - Cranberry Hole (Class IV)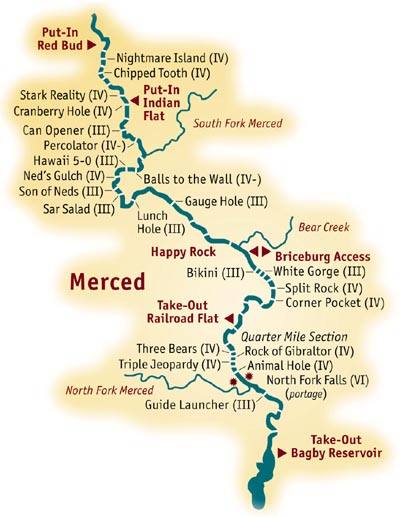 Mile 3.4 - Can Opener (Class III)
Mile 4.3 - Percolator (Class IV)
Mile 5.6 - South Fork Merced enters from river left
Mile 6.3 - Balls to the Wall (Class IV-)
Mile 7.1 - Hawaii 5-0 (Class III)
Mile 7.5 - Neds Gulch (Class IV): The river bends sharply left. Neds Gulch, a creek entering from the right, is marked by a house and other signs of human habitation. Scout from either side. A staircase rapid; the third and last drop is the biggest. At high water the holes become huge but runnable cresting waves.
Mile 7.9 Son of Neds (Class III)
Mile 8.1 Salad Bar (Class III)
Mile 9.2 Lunch Hole (Class III)
Mile 11.3 Gauge Hole (Class III)
Merced River - Briceburg to Bagby (Class IV)
Mile 15 - Briceburg: An historical site, not a town. Public day use, put-ins, and take-outs permitted. No camping. Bear Creek enters from the left. Highway 140 leaves the river here, but a bridge crosses to the right bank and a dirt road continues downstream, providing frequent river access for the next five miles.
Mile 17.2 - Split Rock (Class IV): A huge rock (hole at higher water) blocks the middle of the river. Scout both this and the next (Corner Pocket) at the same time, from the right bank.
Mile 17.4 - Corner Pocket (Class IV): The river turns sharply right, and most of the current pours into a boat-eating hole.
Mile 20.2 - Railroad Flat Campground (right bank): End of the road. A trail continues downstream along the old rail bed. Take out here at higher flows (1000 cfs and higher) to avoid the risk of running Quarter Mile Rapid unsuccessfully and being swept into North Fork Falls.
Mile 22 - Quarter Mile Rapid (Class IV+): Longer than its name indicates. A complex boulder slalom at lower flows; big, powerful waves and holes at higher flows. Scout carefully from the right bank, memorizing the route. Station rescue parties with throw bags downstream. Check the short pool separating the end of the rapid and North Fork Falls. If you're not sure you can stop in time, don't run this rapid.
Mile 22.6 - North Fork Falls (Class VI): Portage; A 30-foot vertical drop decorated with huge boulders. Sure, a few crazies have run the far left side, but that's no reason for you to try it. Use the boat ramps on the right bank to portage. North Fork of the Merced enters on the right just downstream. Class II rapids from here on.
Mile 28.3 - Bagby Take-out: End of the dirt road that runs up the left bank from Bagby. A small fee is required to use the road. Take out at any convenient spot.